The Invitation
In Victorian London, a lovelorn fifty-three-year-old widow discovers she is the muse for a young artist.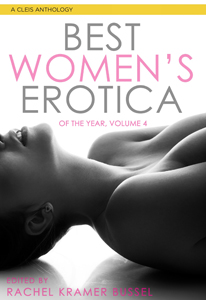 Best Women's Erotica of the Year Volume 4
Edited by Rachel Kramer Bussel, includes "The Invitation" by Regina Kammer, a Victorian erotic romance short.
Published by Cleis Press, 2018.
Purchase ebook: Amazon USA, Amazon UK, Amazon Canada, Apple Books, Barnes & Noble/Nook Press, Google Play, Kobo USA
Purchase paperback: Amazon USA, Amazon UK, Amazon Canada, Barnes & Noble
Purchase audiobook: Amazon USA, Audible





Publisher's description: In Best Women's Erotica of the Year, Volume 4, award-winning editor Rachel Kramer Bussel has gathered the hottest sexy stories starring outspoken women who daringly pursue love and lust. … From outsiders who lustily claim their place without apology to women taking the boldest of risks with their hearts and their bodies, these sizzling stories are sure to make your heart pound. … these tales will turn you on and stay with you long after you've finished.
"The Invitation" by Regina Kammer
Widowed, middle-class, and past her prime, Leonora is unwelcome amongst Victorian England's upper crust and denied the opportunities society can bring — including romantic attachments. She aches for erotic fulfillment, and fantasizes about a young artist who sketches in London's National Gallery. At a chance meeting, the artist offers Leonora an intriguing invitation. Will she risk respectability for a chance at love?
Sexy fun includes: erotic fantasies, semi-public sex, a heroine in her prime
Series description: Art & Discipline
Beneath prim and proper Victorian society lies a world of unconventional artistic endeavors and sensual pursuits.
Book 1: The Westerman Affair
"The Invitation" takes place in the same world as Regina's Art & Discipline series. The characters in "The Invitation", Leonora Aldbury and the artist Jasper Dawson, will be integrated into future Art & Discipline books.
Reviews for "The Invitation"
"'The Invitation' by Regina Kammer is an historical set in 1880 London, and if you know me, you know I adore historicals. This story featured an older female paired with a younger male artist lover. Um… YUM. The use of non-contemporary language might not appeal to some readers, but the tension in the setup of the story carries through wonderfully to the climax. I loved it." — Leandra Vane, The Unlaced Librarian
"While I 'got something' out of each of these stories, there were some that I particularly enjoyed. … "The Invitation" by Regina Kammer takes place in 1880, and I am a sucker for a good bodice-ripper. Plus, I like that this story was about a middle-aged widow rather than the sort of virginal character that usually is the leading lady in historical romance." — Kate, Slutty Girl Problems
"I found myself tearing up at a historical story of widow and a young artist—perhaps I get emotional when characters aching for exploration get their needs met." — Nicole G., Amazon
"I enjoyed all the stories but some of them stuck with me long after I finished them. Some of my favourites were … The Invitation by Regina Kammer…" — Janine, Goodreads
"A few standouts for me…'The Invitation' by Regina Kammer – Historical romance is my catnip, so I loved this one" — Portland reviewer, Amazon
"…an amazing collection of stories. The authors all brought their A-game. there are always favorites with anthologies and mine were … The Invitation by Regina Kammer…" — traceyg, Amazon
Today's tweet from @BWEoftheyear is about The Invitation by Regina Kammer @kammerotica
Not what I was expecting but I was enamoured. A historical erotic story! The Victorian age added a sexy, risqué side that I hadn't expected. Fantastic story that gave me blushes 🥰 @cleispress pic.twitter.com/YqWv6FXtYM

— Rebecca Chase (@rebeccahchase) December 30, 2018
"The Invitation by Regina Kammer – Hooray for Historical Erotica! Just on the general principle, I loved this story. The world needs a good reminder that our generations haven't discovered anything new about sex that didn't already exist in another time and place." — Courtney C, Netgalley
More Victorian erotic romance from Regina
The Westerman Affair (Art & Discipline Book 1)
The Harwell Heirs
Book 1: The Pleasure Device
Book 2: Disobedience By Design
Book 3: Where Destiny Plays
Disputed Boundaries (Stories from the San Juan Islands)
The Ockham Steam-Works Laboratory Chronicles
Story 1: "One Cheek or Two?"
Story 2: "Delia's Heartthrob"
Story 3: "Swing Follies"