Another snippet from my most recent release, The Pleasure Device, book 1 in my Harwell Heirs series. At the point in the story where this snippet takes place, the reader has already met our hero Dr. Nicholas Ramsay (in all his orgiastic glory), but our heroine Helena has not. So, really the title of this blog post should more correctly be "Nicholas from Helena's point of view".
From my point of view I based Nicholas on this guy: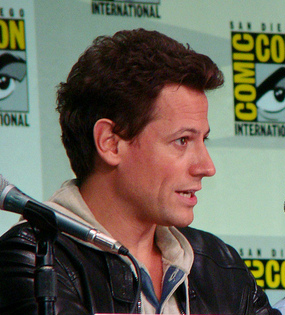 (Ioan Gruffudd (this is a cuter photo!) was also partial inspiration for Sam in The General's Wife. Okay! So I got a thing for men with brown hair and brown eyes!)
The set up: Our heroine, eighteen-year-old debutante Helena, is expected to find a husband during the London Season of 1879. But it can't be just any man, it must be a titled man. At her first ball, Helena takes in her surroundings…
The sights, the smells, the sounds were wondrous. The finery and the spectacle of the fashions, the glitter of jewelry and crystal in the dim light, the low indistinct hum of conversation and music—

It all vanished when she saw him.

He was tall, elegant in his evening attire, which fit perfectly on his athletic form. His hair was brown—no, something romantic like chestnut…no, something darker…maybe…mahogany. Yes, that's what it was, dark and sleek and smooth to the touch like gloved fingers sliding along a polished mahogany table. Or perhaps a rich dark frame highlighting the handsomest face she had ever seen, made even handsomer by his obviously affectionate rapport with the woman at his side. He was too far away to see his eyes, but Helena had a very wicked notion of those eyes gazing at her, twinkling with admiration and invitation. Brown. His eyes must be a chocolaty brown.
*************
*Snippet Sunday: promoted on Twitter as #SnipSun, #SnipSunday, or #SnippetSunday, and on Facebook, as well as on various blogs (just type Snippet Sunday in your favorite search engine and see what comes up!). Authors post just a snippet — six to ten sentences — of a recently released novel, a WIP (work in progress), or an older manuscript that's being revived. Lots of different genres are represented — romance, mystery, thriller, sci fi, fantasy, erotica, and more.
[Photo credit: Ioan Gruffudd. Derivative work from Ioan Gruffudd & Nestor Carbonell, San Diego Comic Con, July 21, 2011, photo by vagueonthehow (©vagueonthehow). Used under terms of Creative Commons Public License Attribution 2.0 https://creativecommons.org/licenses/by/2.0/
Original photo https://www.flickr.com/photos/vagueonthehow/5983095758/]