Another snippet from my most recent release, The Pleasure Device, book 1 in my Harwell Heirs series. Last week our heroine Helena had her first glimpse of the hero Nicholas (who looks a lot like Ioan Gruffudd. Lucky girl.) at her first ball during the London Season of 1879. This week our hero has his first glimpse of Helena across the room at the very same ball. However, the scene as I wrote it is not from Nicholas's point of view. It is from the point of view of Lavinia, the Viscountess Foxley-Graham, a secondary heroine and, at this particular point in the story, Nicholas's lover. His older lover. Because women in their forties are hot! (Lavinia gets her own story in book 3 of the series. She also has a past with Dr. Julius Christopher whom we met two Snippets ago.)
So, what does Helena look like as I envision her? Believe it or not, I think the Ellora's Cave cover artist picked the right model to represent her, but I think she has more auburn-y hair.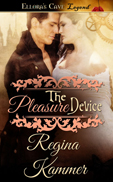 The snippet has been edited to conform to the "rules" of Snippet Sunday*.
"Who's she with now?"

Nicholas's voice held far too much interest, and Lavinia saw immediately why. With her striking copper-colored curls framing her angelic face, a perfect figure swathed tightly in pale purple silk, draped tulle accentuating her hips, and richly decorated silver brocade underskirts distracting attention from her décolletage, Helena Phillips was possibly the most eye-catching debutante at the Wrexham ball. Nicholas gawked at the beguiling girl with a faraway expression, one Lavinia rarely saw but immediately understood. He was head-over-heels smitten. More than that, he was fantasizing an erotic scenario at that very moment as evidenced by the slight bulge in his trousers.

"Vinny," came Nicholas' entreaty to break her thoughts. "Who's the girl in lavender?" Mere interest had turned into earnestness.
*************
*Snippet Sunday: promoted on Twitter as #SnipSun, #SnipSunday, or #SnippetSunday, and on Facebook, as well as on various blogs (just type Snippet Sunday in your favorite search engine and see what comes up!). Authors post just a snippet — six to ten sentences — of a recently released novel, a WIP (work in progress), or an older manuscript that's being revived. Lots of different genres are represented — romance, mystery, thriller, sci fi, fantasy, erotica, and more.